Course of life
I was born on a small house-boat in one of the canals in the city of Leiden, The Netherlands, in 1961.
Sometimes, one can observe a certain behaviour, or specific talents in a child which make it seem clear what this child will do, or in which direction it will go in it's future life. This was also true in my case; even as a very young kid I loved painting and drawing.
Although I promised my school-teacher to go to the art-academy, my parents could not see any reason why I should go. In their eyes it was just some kind of folly. Therefore, at the tender age of 16, I started to work as a painter of Delft Blue earthenware, which felt as a nice alternative to me. Some years later I moved to Rotterdam, where I worked in a bookshop (specialized in architecture) while in the evenings I studied graphic design.
In 1996 I started a company; 'Nothing Els' for illustration and design. Many bookcovers, company-logo's and all sorts of advertisement bochures were made. While the design work was fun and satisfying, my inner self urged me to paint, so in my spare time every now and then I picked up the painter's palet.
One fine day, I met the Dutch master-painter Cornelis Le Mair. To my delight he took me on as one of his students, and during 5 successive years I followed his masterclasses each summer. I took painting lessons from Evert Schellens and Paul Jaarsma as well.
Six years later we moved to Denmark. We 'burned our bridges' and the designwork came to a halt. However, this enabled me to focus completely on painting. During these three years in Copenhagen, my work was exhibited several times and based on this success the first commissions started coming in. Also I started to teach and organised painting courses and workshops. It felt good to share all the acquired painting-knowledge. Although I have never stopped learning myself!
For a short while we lived in Barcelona, Spain, and in 2006 we moved to Italy. Here we are still - both my husband and I - working and living. In Florence I studied model-painting and the technique of Caravaggio at the Angel Academy of Art. When we bought an old and neglected house in the province of Umbria, an extensive renovation-period started, and no time (nor energy) was left to paint. In 2012, I organised the first two Italian painting-courses. Soon thereafter I was painting again; finally I could turn my mind completely on the things I love to do. In the autumn of 2014 a solo-exhibition was held in the Vatican City, in the Church of the Friesians. It felt like a brand new start!
I work in a lovely, bright and spacious studio surrounded by olive-groves and vineyards. The green rolling hills of Umbria are peaceful and inspirational, a wonderful place to be.
My Work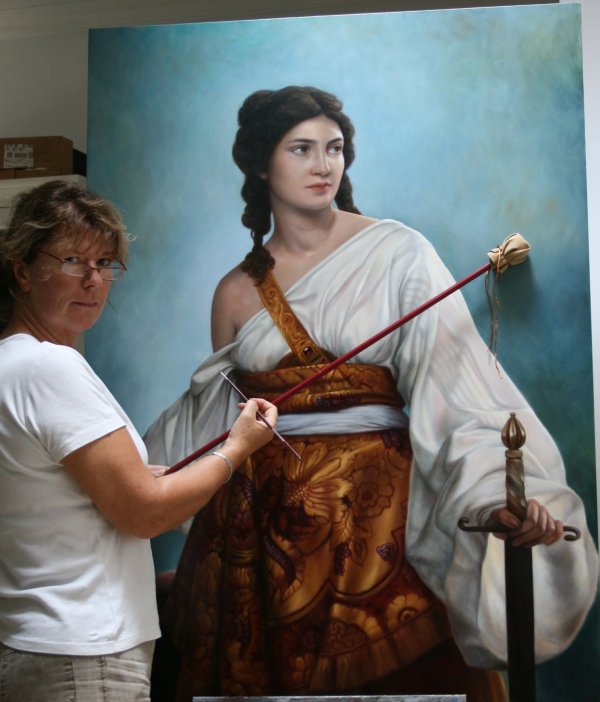 I paint in oilpaint, in a classical, realistic style. Figurative. A style that reminds you of the Baroque. Without any doubt I am influenced by the Old Masters who I greatly admire. I use the glazing-technique developed in the 16th and 17th century. This is a process of many layers of oilpaint on canvas or panel, that often takes month's to complete.
My heart goes out primarely to the portrait, although I have painted the still-life and an occasional landscape as well.
All my work is made with a life-model, or a person sitting - life - for his or her portrait. Two study-paintings ('Judith' and 'Madonna of the Pilgrims') are an exception to this rule, which were valuable painting lessons. As a source of help I use a series of photographs I make myself of the model or sitter. In case of a still-life, the objects are in front of me.
I am happy to receive portrait commissions, and the works are for sale.
Motivation
Art is a form of language most can read.
Just like a book or music, also a painting can tug on one's heart strings. Perhaps this is because an artwork is more than the total sum of materials, colours, technique, style etcetera. Mysteriously - with the help of craftsmanship, talent and passion - something of the maker seems to shine through.
It is my profound wish to visualize the spirituality which is so important in my life: to intrigue the audience and invite them to read.
Overview
1961 I was born in the city of Leiden, The Netherlands.
1977 Painter of Delft Blue pottery at the Porceleynen Fles.
1980 Moved to Rotterdam, worked for the Buildingcentre and followed eveningcourse of graphic design.
1995 Moved in with my partner, whom I married in 1999, in Waddinxveen.
Started to take paintinglessons until we left Holland. My teachers were:
Cornelis Le Mair
Evert Schellens
Paul Jaarsma
1996 Started my own company called 'Nothing Els' for illustration and design.
2002 Moved to Copenhagen, Denmark.
I started to teach, several paintingcourses were given.
Various exhibitions were held in:
Titonator, IT-company in Copenhagen
Museum Sophienholm, solo exhibit in the Cobra-rummet, in Kongens Lyngby
Gallery Knud Grothe in Charlottenlund
The Ambassy of The Kingdom of The Netherlands in Copenhagen
2005 Moved to Barcelona, Spain.
Gave paintingcourses in Athens in Greece and Sitges in Spain.
2006 Moved to Italy where I studied model-painting and the technique of Caravaggio at the Angel Academy of Art in Florence.
2007 We bought and started renovating our old Italian house in the countryside of Umbria, about 90 km north of Rome.
2012 Various paintingcourses and workshops were given in Italy and Holland.
2014 Solo-exhibition in Italy:
Church of the Friesians, Vatican City in Rome