Exhibitions
At the start of the brand new 21st millennium we moved from Holland to Denmark and there I made the first carefull steps as an independent artist. Exhibitions followed, amongst which the Knud Grothe Gallery in Copenhagen and the Museum Sophienholm Cobrarummet as well as the Dutch Embassy.
//////
After this promising start my career was interrupted for a long time by the many moves (8 times in less than 7 years!) all over Europe - with our last move including the purchase of a dilapidated house in Italy that my husband and I restored ourselves. I can assure you that no time or energy is left to paint....... But we did it, the house was finished, and slowly our normal everyday live returned to us. When I was offered to exhibit in the Church of the Friesians in Rome, I took the offer with both hands! It felt like a new start.
The official name of the Church is: HH Michael and Magnus and the location is just breath taking. Being within the Vatican walls, the steps of the Church virtually touch the St. Peter's square. Granted, compared to the imposing Basilica itself the Dutch Church is rather small. But it has been restored with love and its history is long and fascinating. Of the original nine St. Micheal's Churches built around the Castel Sant'Angelo in distant Roman times, this is the only one still standing. More than 1200 years ago the first pilgrims made the dangerous journey from the Low Lands and stayed here.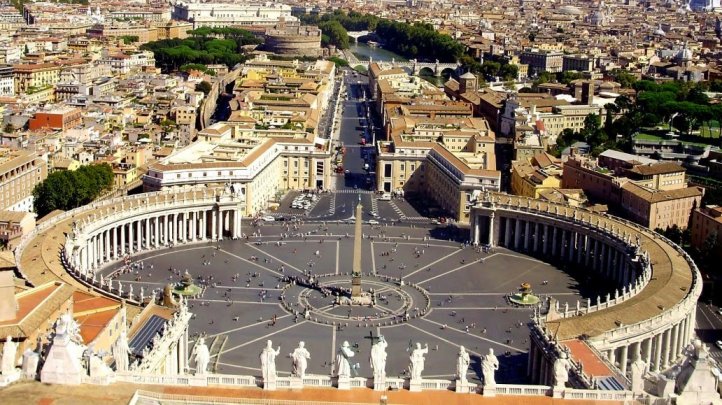 In the autumn of 2014 my works were on display for 4 weeks in this Church of the Friesians. Of course I managed to be present on most of the days, curious about the visitors. Who are coming and how will they react? I was utterly amazed. People who climbed on the Holy Stairs on their knees, the pilgrims from Holland who came by bicycle and even some on foot! Many visitors and many nationalities. I wondered if they would get the message I would like to get across. For instance in the painting of the archangel St Micheal, with the human soul depicted as a flame and his asking gaze that looks straight at you. When I saw a pilgrim touching the flame and making the sign of the cross, I was deeply moved. I had so many stimulating conversations with the visitors. About faith, the rich history of the Church, about Rome and our famous neighbour -his Holiness the Pope - and of course about my paintings and art in general.
In short, I owe a lot to Father Tiemen Brouwer who has by now stepped down as director of the Church of the Friesians. I painted a portrait of him in front of the gates of the Church.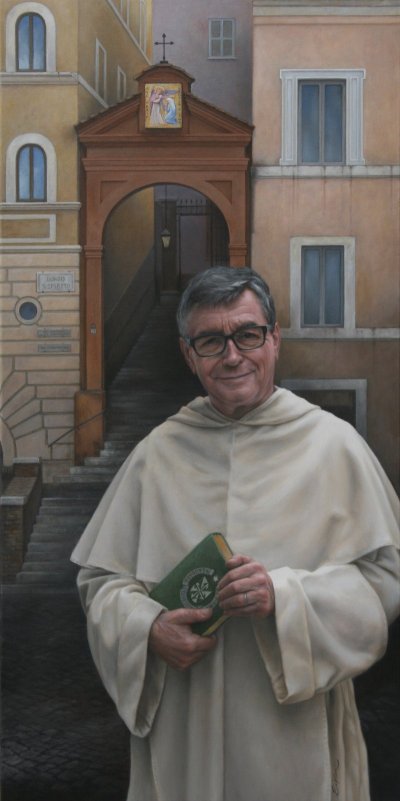 In 2016 I took part in an exhibition of different artists in Orte in central Italy, gallery ArtConnection.